Enframe Construction – A leader in
post-frame

and

conventional wood-frame

buildings in Grande Prairie & the Peace Region
Constructing a building on your Peace Country farm, acreage, or industrial location?
Look no further than
Enframe Construction Ltd.
to get the job done.
You can count on us to build a robust
post-frame
or
conventional wood-frame
building to suit your needs.
We take great pride in delivering outstanding results, backed up by exceptional customer service. Enframe strives to exceed your expectations no matter how big or small your plans.
Enframe specializes in:
Garages
Machine shops
Cold storage units
Industrial shops
Commercial buildings
Barns
Hay shelters
Aircraft hangars
Riding arenas
Maybe you have your own unique requirements. Let's discuss them over coffee and we'll get your project designed and completed to your specifications.
Post-Frame
Conventional Wood Frame



ABOUT ENFRAME
Enframe Construction is a recognized leader in post-frame and conventional wood-frame buildings in the Peace Region.
Our team can provide you with exceptional service and has many years of combined experience under their belts. Our roots run deep in the region so we understand the needs of the agriculture sector, acreage owners and industry.
We build it all – from your basic garage or cold storage unit to the classiest of industrial shops with all the bells and whistles.
Learn More About Us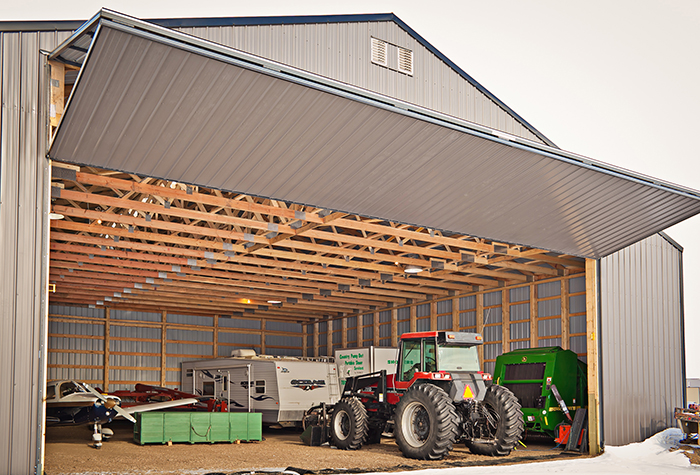 The crew was very clean and conscientious, good and helpful. There were no problems with the changes I wanted made. Everything turned out really nice. I will definitely use Enframe for my next building.

...They were great to work with at every stage of the project from beginning to completion. The quality of the building is more than satisfactory...

I would like to express my gratitude to your building construction crew for a job well done. Elmer and his crew of 5 (Matt, Chris, Tyler, Forrest, and Henry) should all be commended for not only construction of a quality pole shed, but for doing it in a SAFE and EFFICIENT manner. At no time during the 6 day building process did I see anything but professionalism. I would highly recommend Enframe Construction to any individual or firm that is in the market for a pole shed. Please pass on my sincere appreciation to your crew, as their work ethic and attitude while staying and working on our site has been a pleasure.