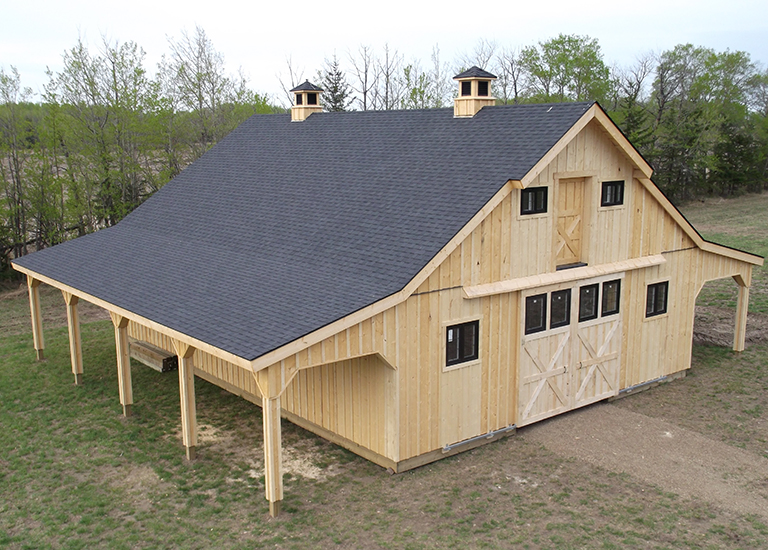 About Agricultural Buildings
Our management team has built every kind of agricultural building imaginable.
Whether you need a barn, a hay shelter, a machine storage building, or even an aircraft hangar, we're ready to get the job done. Enframe wants to ensure your livestock and machinery are secure. Our quality buildings are ready to accommodate all of these needs.
Whether you're looking for a classic building or an innovative, modern approach, Enframe can build it, and build it right. We'll make it look great, too – we offer customization on size, colour, and many other options.
Building Types
Barns
Barns are important features on a farm and add character to your property. We can build as small or large as you need. Whether a classic livestock structure or a garage/barn combo, Enframe is ready to tackle the project.
We can finish the interior for animals or machinery, giving you the barn that suits your needs exactly and in style
Hay Shelters
Maintaining hay in good condition is critical at any livestock farm. A sturdy hay shelter will keep your feed safe and dry.
Typically an uninsulated building, Enframe can construct an affordable building for your bales with ends open or closed.
Machine Storage
Farm equipment is too valuable to go unprotected. Enframe will build a sturdy storage building to your needs, with plenty of room to get your large machinery in and out easily.
Choose from overhead or bifold doors – or leave one side open. It's up to you.
Horse Shelters
Winters are tough in the Peace Country. Give your horses or cows a space to shelter from the wind and snow. We can build them for one horse or an entire herd.
Riding Arenas
Don't let the Northern Alberta winters keep you from doing what you love. Looking for a large structure for small rodeos or 4-H exhibitions? We've got you covered. Something small and basic for the family? No problem. Want an elaborate, beautiful space with an attached tack room? We can do that too.
Hangars
Hangars are a great option when a wide and high door opening is required. Specifically designed to allow planes or helicopters to easily pass in and out, doors on hangars are also versatile for many other applications on your farm or acreage.
Agriculture Buildings We've Completed