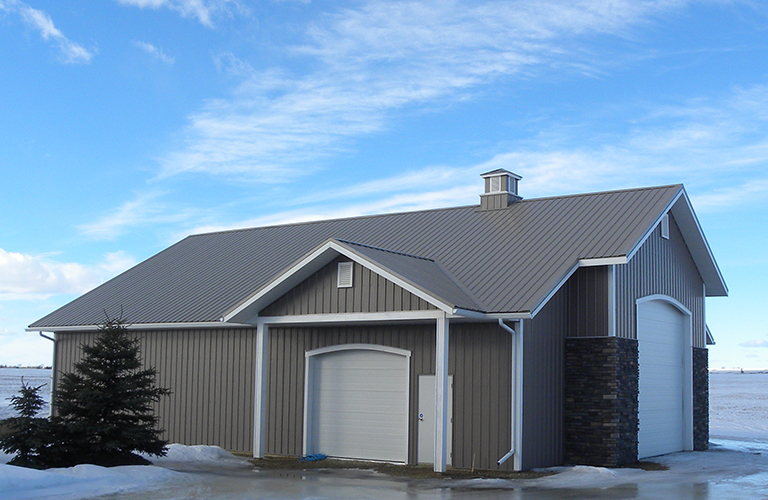 About Acreage Buildings
A home in the country requires some great outbuildings to complement the house. Whether it's a garage, barn, acreage shop, or a custom design project, Enframe is ready to provide the right structure to suit your needs.
Our top-quality construction methods ensure your investments are protected, whether it's a motorhome, classic car, or your favourite horse.
Acreage buildings greatly increase the value and saleability of your property. Our buildings are solid, secure and they last. They look great, too. We can build anything from your basic, inexpensive structures all the way up to the prettiest custom designs. Let us know what you're looking for and we'll make it happen.
Building Types
Garages
You might just have a car or perhaps you also have a truck, snowmobile, bicycle and boat that all need protecting. A detached garage or workshop will accommodate your vehicles, toys, and tools, securing your investments.
From a standard garage to a full-on shop, Enframe can provide the building you need. Let us know what you have in mind, we'll get it built. We also provide concrete services, if desired.
Acreage Shop
From storing your motorhome to providing a place for your hobby, Enframe will build a shop to suit your needs.
We construct sturdy structures with ample space for parking RVs, snowmobiles and ATVs that can include space for unwinding with friends after a big day out.
Barns
You may not have a full-fledged farm, but if you have a few animals or riding mower to protect, we can build just the right structure for you. Whether a classic livestock barn or a garage/barn combo, Enframe is ready to tackle the project.
We can finish the interior for animals or machinery, giving you the barn that fits your specifications – and do it in style.
Acreage Buildings We've Completed